Celebrating 25 years with 25 Days of Giving
Published: February 1, 2016 by Kim Minton, Vice President of Development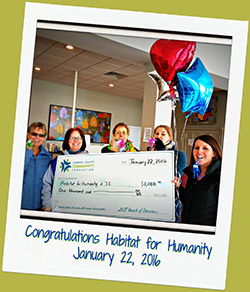 As part of it's 25th anniversary celebration in 2016, the Johnson County Community Foundation (JCCF) kicked off 25 Days of Giving by surprising Habitat for Humanity of Johnson County with a $1,000 grant. JCCF will celebrate by giving away a total of 25 surprise grants this year to nonprofit organizations serving Johnson County.
JCCF held a donor event Ray Skillman Classic Car Showroom on January 20, 2016 where guests were asked nominate their favorite non-profit. Ray Skillman drew the winner from the bucket of nominees. Jeff Goben, donor and attendee, nominated Habitat for Humanity of Johnson County.
JCCF staff members presented the $1,000 surprise grant to Habitat for Humanity of Johnson County's Executive Director, Lee Ann Wilbur on January 22, 2016.
"We look forward to surprising 24 more organizations this year," said, JCCF Vice President of Development Kim Minton. "One of our favorite things to do is to support the good efforts of the organizations in our community. With 25 Days of Giving, we can do that and celebrate our anniversary."
The Foundation will announce surprise winners, as well as share ways that community members can nominate an organization, on Facebook (www.facebook.com/jccfindiana) and Twitter (www.twitter.com/JCCFIndiana). Contact Kim Minton at kimm@jccf.org for more information.
JCCF strives to be the philanthropic leader in improving our community, today and in the future, by connecting people who care with causes that matter in Johnson County.
It's mission is to enhance the quality of life for all citizens of Johnson County, now and for generations to come, by building community endowment; addressing needs through grantmaking, including scholarships; and providing leadership on key community issues.