Color the County mural artist for Franklin announced
Published: July 10, 2017 by Kim Minton, Vice President of Development
The winner of the Johnson County Community Foundation's (JCCF) Color the County Mural Program design contest and the 2017 Community Painting Day for Franklin were announced today.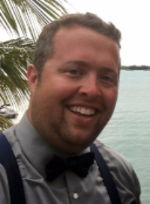 Danny Causey's mural design was chosen for the mural location at 351 E. Jefferson St., Franklin. Causey is the director of architectural salvage for Madison Street Salvage with Franklin Heritage, Inc.
JCCF invites residents of all ages to help bring the mural to life at the Franklin Community Painting Day on Saturday, August 19, 2017 from 8:00 a.m.-12:00 p.m. during the Franklin Farmer's Market. Painting supplies and refreshments will be provided.
Color the County, an initiative of JCCF, joins the community and artists through the collaborative process of mural-making.
The Johnson County Community Foundation is a nonprofit public charity established in 1991 to serve donors, award grants and provide leadership to improve Johnson County forever.