JCCF to launch inaugural Giving Day on the 2018 Summer Solstice
Published: July 12, 2017 by Kim Minton, Vice President of Development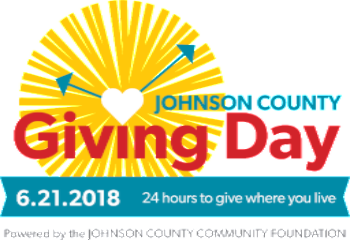 The Johnson County Community Foundation (JCCF) is launching its first ever Giving Day on the Summer Solstice – Thursday, June 21, 2018 from 12:00 a.m. to 11:59 p.m. This special one-day fundraising event, primarily driven by digital media, allows individuals, businesses, and JCCF the opportunity to support nonprofit organizations that are helping meet the needs of Johnson County.
"Participating nonprofits will be highly rewarded for their participation and success," said Kim Minton, vice president of development for JCCF. "JCCF is committing $50,000 to proportionately match community donations collected in the process."
Giving Day will provide a platform for participating nonprofits to share their stories, connect with new donors and become skillful in digital fundraising. They will gain knowledge to will help them build capacity for their organization, develop stewardship and grow their donor base.
Giving Day will also become a gateway for people to connect to causes doing good work in areas they passionately care about.
For more information visit www.jccf.org. Direct questions about Giving Day to Kim Minton at kimm@jccf.org.
JCCF is a nonprofit public charity established in 1991 to serve donors, award grants and provide leadership to improve Johnson County forever. Learn more at www.jccf.org.