Ready, Set, College!
Published: October 16, 2017 by Karly McPherson, Franklin College student, intern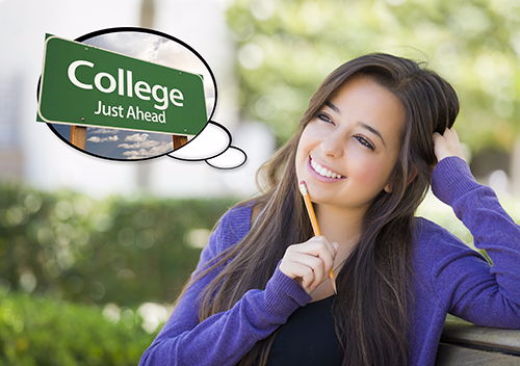 So, you're nearing the end of your high school career, what comes next? Preparing to step out into the new world of scholarships, FAFSA and college applications can be stressful and intimidating, but it is possible! Take it from someone who was in your position not so long ago, you can do this!
SAT/ACT
One of the first things you need prioritize is the SAT/ACT tests. These are tests that colleges will take into consideration when you apply. What you score may affect whether or not you get into your dream school, so it is important to study and even take the tests more than once. The higher your score, the better your chances for getting accepted become. Some schools may have a cutoff for low scores, while others do not. A good rule of thumb is to look at the previous year's average SAT/ACT scores of those accepted to a college you are interested in, and that can be a good way to see where you may need to improve in your studies.
Guidance counselors are a very helpful resource. Visiting their offices and talking about your future plans and interests allows them to better help you meet your goals. They also can provide you with SAT/ACT study packets and books or direct you to a place where they are available.
One term that may pop up when dealing with these tests is "super scoring". Super Scoring was created to help show students while at their best. It involves taking your highest scores of different sections of the test from multiple SAT test sittings (diycollegerankings.com). So for example let's say you took the SAT twice. Your first math score was aand the second was a 670. Your super score for math would be 670.
A question that often comes up is if you should take the SAT, ACT or both. Both tests are similar in their content. The main difference between the two is that the ACT has a science test and the SAT does not. The SAT is scored on a scale of 200-800 and the ACT is scored on a scale of 1-36. Princetonreview.com recommends taking a timed practice test for both the SAT and ACT to help you make your decision. With that being said, I encourage you to do your own research and make the decision that is best for you.
These are not your average tests. You must register for a specific day, place, and time. On test day, you'll need an acceptable photo ID, your admission ticket, at least two numberpencils with erasers and an approved calculator. Make sure you eat a good breakfast and a good night's sleep before the test. It's also nice to have a drink and a snack for breaks. You are not allowed to have any digital devices, such as digital watches, phones, tablets, laptops, MP3 players and cameras. Anything that can record, take photos, has an audible alarm, or receive and transmit audio is banned. For more information about how you can prepare, you can visit www.collegeboard.com.
Finding the Right College for You
When researching colleges that you are interested in, here are a few questions that you may want keep in mind: What is your intended major? What is your price range? What kind of campus are you comfortable on (large, small, etc.)? How far are you willing to travel? Does your academic standing meet the school's requirement? Answering these questions can help you find the school that best suits you and your needs.
One way to research colleges is to check out their websites or speak to their representatives. Once you've narrowed down your choices you can start organizing college visits where you can take a tour and sit in on classes. Some schools even offer overnight trips, where you are paired with a college student and shadow them as they go through their classes and stay in their dorm room for a night. College visits aren't necessarily required, but I would highly recommend touring the schools you're interested in. It allows you to get more comfortable with the campus while interacting with some of the college's staff and students.
In recent years, a common application has been created for and accepted by more than colleges. The common application is one application that can be filled out once and can be sent to multiple colleges. This can save you a lot of time during the application process. However, there is still the possibility that you may have to fill out an application specific to a certain school if that college does not accept the common application. You can fill out and find more information about the common application at www.commonapp.org. You also still have the option to fill out a college's specific application by visiting their website.
When applying to colleges, it is important to read the applications carefully. Actually filling out the applications can be a long and boring process, but you have to keep your wits about you! Make sure you fill out your information correctly and don't rush through it. After you finish it, look over it again to make sure everything is correct and you didn't accidentally skip a section. Some applications are free to submit while others have submission fees. Make sure you leave yourself plenty of time to turn in the application, don't wait until the last minute! Late applications will not be considered for enrollment.
Deadlines vary from college to college. For example, the Indiana University of Bloomington states that you must apply by Novemberst to be considered for academic scholarships or by February 1st for the regular admissions deadline (Indiana.edu), while Franklin College states that freshmen may send applications at any time, though those who send it before December 1st are considered priority consideration for merit based scholarships (franklincollege.edu). The best way to remember deadlines is to make a list. Write down all the schools you plan to apply to and their application deadlines.
FAFSA
It is important to talk to the financial aid offices of you top college choices. The office of Federal Student Aid is a part of the U.S. Department of Education. Their job is to help make college more affordable through federal grants, loans and workstudy funds (https://fafsa.ed.gov). In order to see how the office of Federal Student Aid can help you, you'll need to fill out the FAFSA, or a Free Application for Federal Student Aid. You can apply for the FAFSA online at funds (https://fafsa.ed.gov). The website will provide you with helpful instruction in navigating and filling out the application. Explore and get comfortable with this site. The FAFSA must be filled out every academic year you attend college, so you are going to be on it more than you might think.
The FAFSA for theacademic year will be available from October 1, 2017 to June 30, 2019. Indiana students applying for the 2018-2019 school year will need to have their FAFSA turned in by June 30, 2019 to meet the Federal deadline and March 10, 2018 for the Indiana state deadline. If you are applying from another state or for another year, you can find your deadlines by visiting funds (https://fafsa.ed.gov). The college deadline for the FAFSA varies from school to school and can be found on their website.
FAFSA requires specific information about your family's income and taxes, as well as other information that you will become well acquainted with while filling out college applications. I would recommend having a parent or legal guardian with you while filling out the FAFSA to help answer any questions you may not know the answer to.
Scholarships
The Johnson County Community Foundation has a large list of available scholarships that can be viewed at jccf.org. The Johnson County Community Foundation awarded scholarships in just 2017 alone. That totals to $458,000 in scholarship money! All scholarships mentioned in this article can be found at jccf.org.
Is your dream school a little out of your price range? No problem! That's what scholarships are for. Scholarships help pay for tuition. Needless to say, everyone wants scholarships that's why it's important that your application stands out and that you meet the scholarships' requirements.
Promoting your involvement in extracurricular activities helps your application stand out. Showing that you are an involved with other activities outside of the classroom makes your application look full and interesting. Are you involved with any school clubs or sports? Do you do any community service activities? Are you a member of the student counsel? If there is a space asking for extra-curricular, don't hesitate to put down all your activities. These are also things that you could bring up in your essay, as many scholarships require an essay over a certain topic or question.
Similar to the college application process, scholarships have requirements that must be fulfilled as well. There are some requirements that pertain to a certain GPA one must have in order to be eligible to apply to the school. For example, the Terri Bailey Memorial Scholarship requires a minimum GPA of 0, while the Marie M. Borden Scholarship requires a minimum GPA of 2.5. Some scholarships can even be renewed for continued financial support while you are in college, however they do ask that you maintain a certain GPA specific to that scholarship.
Many scholarships require, an essay, letters of recommendation, or financial information. Some also ask for a list of your extracurricular activities. Some also require that you be from a specific school or county. These are relatively normal items and criteria that shouldn't be too surprising. But some criteria for scholarships is extremely specific as to who is eligible. The HPC Blackwell & Associates Education Endowed Scholarship asks that the applicant be a "Member or family member of Hopewell Presbyterian church family (limited to children and grandchildren) (jccf.org) and the Karl Bradlyn Memorial Scholarship applicant should be a "Student with a physical or learning disability who has demonstrated advancement in academics and in personal life in overcoming his or her disability during high school and beyond" (jccf.org). Not all scholarships are as specific as these examples. The important thing is to not get overwhelmed. There is a scholarship out there for you, you just have to find it.
Just like your homework assignments, scholarships have deadlines that they must be turned in by, no exceptions! Make sure you pay attention to when applications are due. All the scholarships on jccf.org have online applications that must be sent in electronically. This should go without saying, but make sure you're in an area with good WiFi. This will make the process of turning things in go faster and a lot smoother. If you are having someone write you a letter of recommendation, it is your responsibility to let them know the deadline, as well as doing a follow up with them at least week before it is due. Leave yourself plenty of time to get the applications filled out, and write essays.
Enjoy Yourself
You are entering a new and exciting chapter of your life, full of new adventures and challenges. Even though you may find yourself in stressful situations, you need to know that all of this will have a glorious pay off. You will learn more about yourself and what you want to do in the future. If you have any concerns about college or your future plans in general, talk to your teachers, guidance counselors, or parents/legal guardians. They are there to help.
I hope you all have wonderful learning experiences at your respective colleges and have a lot of fun along the way. Good luck!