Stories of Connection – Rhythm and Reins Therapy Services Fund
Published: August 29, 2017 by Johnson County Community Foundation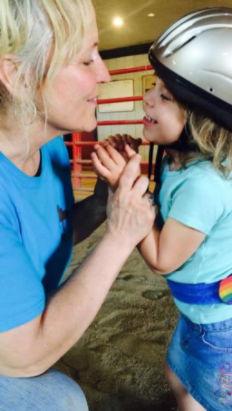 Rhythm and Reins Therapy Services Fund was established to support hippotherapy services to youth in need in Johnson County.
Experienced physical and occupational therapists at Rhythm and Reins Therapy Services use the movement of the horse as a treatment strategy to serve children and adults who may experience a variety of physical, cognitive, communication, and daily living challenges.
"Our daughter could not stand independently or take any steps without her walker when she started hippotherapy. One year later our daughter loves horses, her therapy team and asks to come to horse therapy every day. She will now stand from the ground independently and attempt a few steps on her own. Most importantly, her therapy team always treats her as a whole child and not a diagnosis. I am very thankful for that!"
– A Rhythm and Reins Parent
Rhythm and Reins Therapy Services are provided at Indian Creek Stables, located about five miles southwest of Trafalgar. Like Rhythm and Reins Therapy Services on Facebook.