Trio of murals planned to celebrate 25th anniversary
Published: February 25, 2016 by Johnson County Community Foundation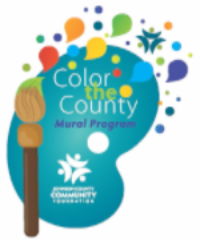 The Johnson County Community Foundation (JCCF) will celebrate its 25th Anniversary by coloring the county with a paintbrush. The creation of three outdoor mural paintings are planned for Franklin, Greenwood and Bargersville.
"The Color the County Mural Program will create cultural, educational and artistic value for residents and visitors", said Kim Minton, JCCF vice president of development.
The Foundation is partnering with the City of Greenwood, City of Franklin, the Town of Bargersville and Gordon Strain, professor of fine arts with Franklin College, to implement the program.
Strain has public art projects experience, including art installations in Cincinnati and window displays at Saks Fifth Avenue and Lord & Taylor in New York City.
Strain said that public art adds to the quality of life in a community and makes places less
intimidating and more welcoming to newcomers.
The design competition is open to all creative entrants from the county. No mural painting experience is necessary. The mural designs should focus on the theme of connecting people who care with causes that matter in Johnson County.
JCCF's partners and 25th anniversary committee will select the winning mural designs. Once the new mural projects are designed and outlined, the community will be invited to help in the painting process during Color the County Community Days in late summer of 2016.
Minton has sought project advice from Judy Byron, executive director of Partnerships for Lawrence, a nonprofit arts organization on the northeast side of Indianapolis, who implements a successful mural program.
"We are happy to see Johnson County bringing the community together in a similar way, to not only beautify the streetscape, but to engage the community and strengthen relationships," said Byron.
Visit jccf.org for more details and ongoing updates on JCCF's 25th anniversary and Color the County Mural Program.