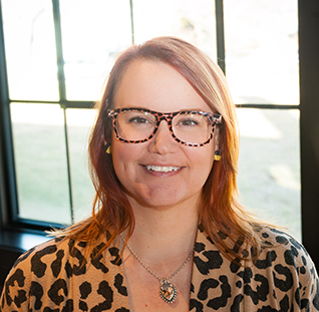 Amanda Rubadue
Board Member | Aspire Johnson County
Amanda Rubadue is the Vice President of Economic Development for Aspire Johnson County. She works closely with companies, site selectors, and state/regional economic development organizations to attract new jobs and investment to Johnson County. She also assists existing companies in Johnson County get connected to resources with the goal of keeping them, and helping them to grow, within the county. She holds the Certified Economic Developer designation through the International Economic Development Council and graduated summa cum laude from University of Indianapolis.
Mrs. Rubadue is a regular volunteer at the ByTavi Boutique and supporter of Center for Global Impact, located in downtown Franklin. She is a mentor in the Big Brothers Big Sisters of Central Indiana program and a member of Mount Pleasant Christian Church. She's married to her high school sweetheart, Michael, and they have one adult daughter, Veronica, and two rescue pups, Tulee and Pigwidgeon.
Before coming to Aspire, Mrs. Rubadue worked as the Economic Development Director for the City of Westfield. She was a founding member of the Women of Westfield networking group and a curriculum committee member for the Hamilton County Leadership Academy. Amanda is a life-long resident of Beech Grove and served as a member of the Parks Board for several years.
Back to Board Members