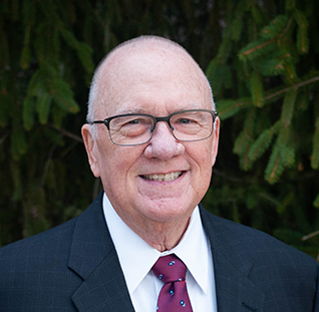 Dan Nicoson
Vice Chair | Retired Executive, Community Volunteer
Dan Nicoson began his career in development in 1973 at the University of Indianapolis. He retired from full-time advancement administration on July 1, 2012. At the time of his retirement he was serving as the Vice President for University Advancement at Missouri Western State University and Executive Director of the Missouri Western State University Foundation, a position he held for eight years. In 2011 he received the Hope Award for Community Service from the Mid-America Chapter of the Multiple Sclerosis Society. In 2012 he was honored by the City of St. Joseph, MO for his leadership in civic matters, and by the St. Joseph Metro Chamber for his leadership as a board member and Vice Chair for both the Membership Division and the Total Resource Campaign.
He served as the President of the Vincennes University Foundation from 1990-2004. Previous positions have included Director of Development at the University of Indianapolis and Assistant to the President for Advancement at Marian College. Following his retirement he worked part time as a gift planning representative for the University of Indianapolis.
Dan continues to be active professionally. He is a member of the adjunct faculty of the Lilly Family School of Philanthropy at Indiana University, teaching professional development courses for The Fund Raising School, which he began in 1983. He is currently a member of the board of directors of the Johnson County (IN) Community Foundation. Nicoson was among the first to receive the Certified Fund Raising Executive certification in 1980.
His professional association activities have included serving as president of the Central Indiana Chapter of the Association of Fund Raising Professionals, president of the Partnership of Philanthropic Planning Indiana Chapter and national board of directors for AFP. He was as a track dean for the AFP International Fund Raising Conference on three occasions and as dean of the AFP's First Course in Fund Raising. He has frequently been a speaker at various fund raising conferences and estate planning programs and chaired a visitation team to assess the development program at the University of North Texas. A former school teacher, he finds classroom interchange stimulating and enjoyable.
He has held memberships in the Central Indiana Chapter of AFP and PPP, Mid America chapters of AFP and PPP, CASE, Indianapolis Estate Planning Council and the Knox County (IN) Estate Planning Council.
He received his B.S. from the University of Indianapolis and his M.S. from Indiana State University. He has completed the Executive Management Institute at the Owens School of Management at Vanderbilt University and the Executive Leadership Institute at the former Center on Philanthropy at Indiana University.
Back to Board Members