Trafalgar Color the County Mural Painting Day 2019
Date: Saturday, August 17, 2019
Time: 9:00 a.m. - 12:00 p.m.
Location: Indian Creek Learning Center, 800 S. Indian Creek Drive, Trafalgar, Indiana 46181
Contact: Kim Minton | 317.738.2213 | kimm@jccf.org
The Johnson County Community Foundation invites you to participate in our Color the County Mural Program. Paint by number the Trafalgar mural designed by Creative Council artists. No artistic talent is necessary. All are welcome to participate! Painting supplies and refreshments will be provided.
Meet the Artists
Creative Council
Chrissy Robertson, Creative Director, Hightower Graphics, Indianapolis
Meredith Pierson, CSR, Renaissance Electronic Services, Indianapolis
Patrick Tisdale, Painter, President of Creative Council of Franklin
Elissa McKee, Co-Owner, 1823 Bakehouse in Franklin & Coffee Grrrls in Bargersville
Behind the Design:
"We chose peonies because those are the state flower of Indiana, and it wouldn't be summer in Indiana without bees flying and ants marching. The decision to make everything larger than life is intentional. We really loved the idea of creating the feeling of being overwhelmed by the size of the flowers and bees."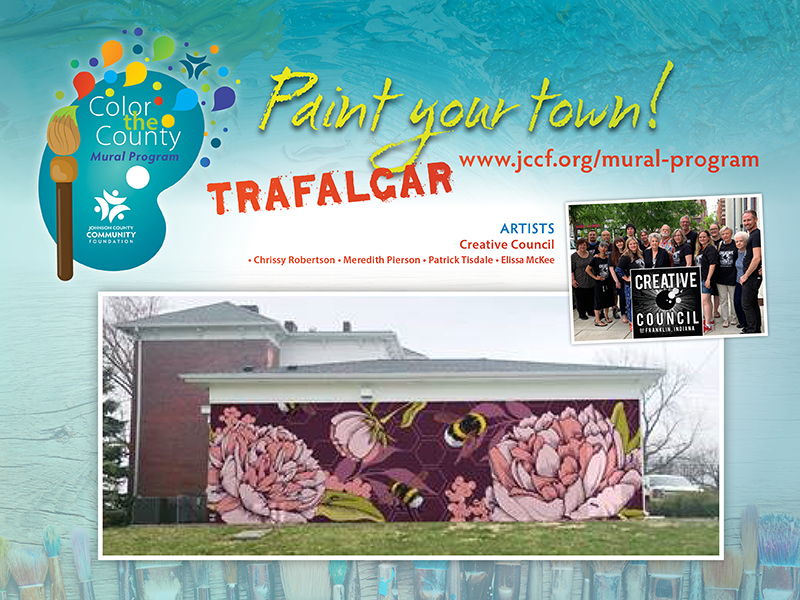 Support for the mural program provided by
Elba L. and Gene Portteus Branigin Foundation
Indiana Arts Commission