Celebrating beauty and generosity in uncertain times
Published: October 19, 2020 by Johnson County Community Foundation
Color the County Mural Program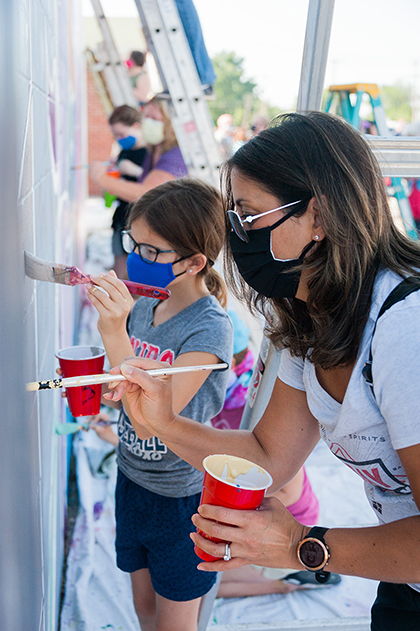 For the past five years the Johnson County Community Foundation's (JCCF) Color the County Mural Program has brought local artists and residents together to beautify public spaces. JCCF has organized the design and creation of 10 murals, with artwork located in Franklin, Greenwood, Bargersville, Trafalgar, Edinburgh and Whiteland.
The winning mural artist for 2020 was Stacie Drane, a local Johnson County resident. Drane's mural design was chosen for the mural location at 89 S. Baldwin Street, Taxman Brewery Co., Bargersville, IN. Her design was inspired by Johnson County's community of both rural towns and larger cities and a love for all the people who live there.
"Especially this year, I really wanted to paint something that unified, that showed a lot of compassion and love," said Drane.
Local community members came out and helped paint the mural at the Community Painting Day on Saturday, August 8, 2020.
Giving Day
JCCF hosted its second Giving Day on June 11, 2020 to support its Community Impact Fund. Gifts on this day were matched $2:1 by Lilly Endowment Inc.
Drive-thru event sales of donuts and pork chop dinners with milkshakes, along with a virtual marketing allowed the Foundation to engage over 250 unique donors and raise more than $65,000 during the 24 hour event.
"We are continuously amazed by the generosity of the Johnson County Community each year and especially during these challenging and uncertain times," said JCCF Vice President of Development Kim Minton.